Airports
Cyprus is served by two International Airports; Larnaca International Airport, (LCA) and Paphos International Airport, (PFO). More than 50 International Airlines connect Cyprus to the whole world; for more details regarding flights to/from Cyprus, please visit the official website of both airports at www.hermesairports.com. Furthermore, domestic communication between both airports and all the major cities on the island is very quick and easy via an extensive highway system.
Airport Transfers
Please note that participants have the following options for their transfers from / to the airport:
Private Taxi Transfers
Arrange for transfers by taxi through the conference coordinator, EasyConferences. These transfers are bookable online through www.easyconferences.org. These transfers can be private (max 3 persons) or shared, are inclusive of meet and assist, and the service is quaranteed.
Note: There will be a person waiting for you after Customs Formalities with a sign stating the conference name. You simply need to tell your name to the taxi driver, so that he can escort you to your taxi for you trip to your hotel.
How to meet your driver
Larnaca Airport Arrivals
Paphos Airport Arrivals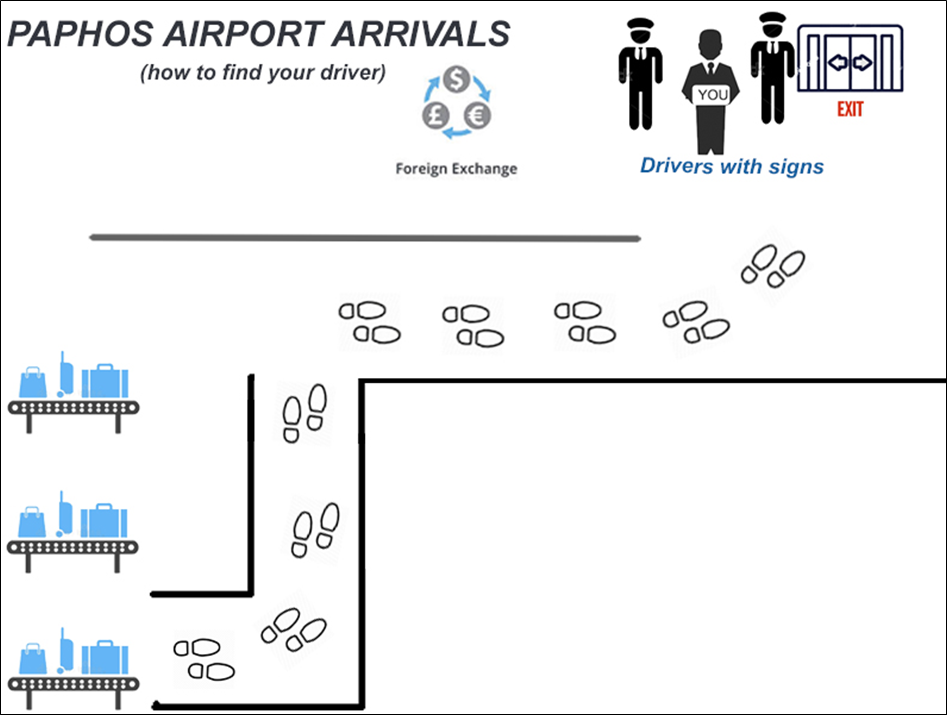 Airport Taxis
Participants may get an airport taxi on arrival at the airport. Service is generally very good, but at times one may have to wait and prices may vary depending on the time of arrival.
Car rentals
Participants may opt to hire a car during their stay, and thus use it for their airport transfers. Cars may be reserved through the conference coordinator, EasyConferences at special conference rates and are bookable online through www.easyconferences.org.
Note: On arrival please proceed to the booth of 'Astra Car Rental' company and the staff there (present 24/7) will be able to assist you. You do not need a voucher. Simply mention your name and provide them with your driving license.
The booth of 'Astra Car Rental' Company is located at:
i. Larnaca Airport: after the exit Custom Formalities, opposite you, slightly to the left.
ii. Paphos Airport: opposite you as soon as you exit Custom Formalities
Please note that the Car Hire Daily Rates are valid for 24 hours. Each daily rental period starts from the moment that the car is picked up and is valid for 24 hours after that. In case that a car is kept for a period exceeding 24 hours then the renter will be charged for an additional day.
Cars picked up from either Larnaca or Paphos airports in Cyprus are subject to an Airport Charge of 20 Euro to be paid locally.