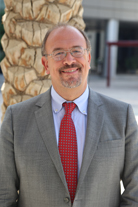 Prof. Ernesto Damiani
Professor, Director of Information Security Center
Electrical and Computer Engineering & EBTIC
Khalifa University of Science, Technology & Research (KUSTAR)
: http://www.kustar.ac.ae/pages/prof-ernesto-damiani
Title:

Toward Model-based Big Data-as-a-Service: The TOREADOR Approach
Abstract:

Big Data applications are complex systems whose design and deployment poses challenges at multiple levels, ranging from data representation and storage issues to choice and adaptation of analytics, parallelisation and deployment strategies as well as display and interpretation of results.
Having to solve these challenges each time can be a waste of resources or, worse, an entry barrier for small organisations that cannot access the data sense and data technology competence pools.
This talk presents TOREADOR, a model-based approach for fast specification and roll-out of Big Data applications, fostering reuse via a Software Product Line approach.
The TOREADOR toolkit supports collecting user requirements and preferences in a declarative format, converting them into a procedural model of the Big Data computation, and compiling the latter into low-level specification directly deployable on a number of execution platforms and technologies.
Short Bio:

Ernesto Damiani is the Director of the Information Security Research Center at Khalifa University, Abu Dhabi, and the leader of the Big Data Initiative at the Etisalat British Telecom Innovation Center (EBTIC) . Ernesto is on extended leave from the Department of Computer Science, Università degli Studi di Milano, Italy, where he leads the SESAR research lab and coordinates several large scale research projects funded by the European Commission, the Italian Ministry of Research and by private companies such as British Telecom, Cisco Systems, SAP, Telecom Italia and many others. Ernesto's research interests include business process analysis and privacy-preserving Big Data analytics. Ernesto is the Principal Investigator of the TOREADOR H2020 project on models and tools for Big data-as-a-service.