The Organizing Committee has secured preferential rates for the Conference participants. Book your accommodation at these rates through the online registration system.
The accommodation prices below are per room, per night and are inclusive of bed & breakfast, all taxes and VAT.
Please note that for a half double room you need to find on your own the other person to share with, and use the shared code provided through the registration page www.easyconferences.org. Both persons must select a half-double room and use the same shared code in their registration.
In case you require to extend your stay beyond the booking dates available in the registration system, please contact us at info@easyconferences.eu
Click here to view location map.
General Information:
The Royal Apollonia Beach Hotel is a 5-star hotel situated in the heart of Limassol, on a sandy beach, surrounded by extensive gardens and framed against the glittering Mediterranean Sea. The Hotel is located at 5 km from the town centre and a few minutes away from shops, bars, restaurants, nightclubs and places of archaeological interest.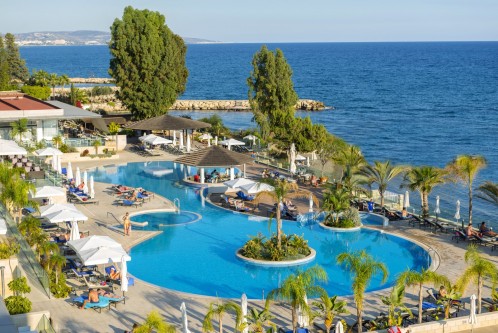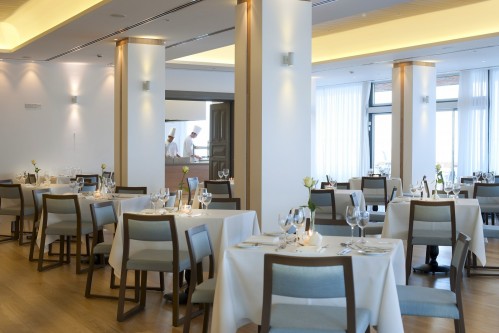 This newly renovated hotel offers the luxury and hospitality needed for any occasion, holidays or business, four restaurants, a poolside bar, the cosy yet cosmopolitan Aphrodite Lounge and Terrace bar to the luxurious refurbished rooms, swimming pools and spa.
Accommodation:
The Royal Apollonia features 204 completely refurbished bedrooms including 13 suites of varying sizes. All rooms at the Royal Apollonia Beach hotel have modern furnishings and large floor-to-ceiling windows. They are decorated in bright colors and require Air-conditioning/ heating, Private bath, Private balcony, Telephone, Internet access, Mini-bar, Hair dryer, Tea & coffee making facilities, Safety deposit box (extra charge), Room service (24-hour), Radio, Satellite TV, Non-smoking rooms.
Rates
| | |
| --- | --- |
| Single Room | € 135.00 |
| Double Room | € 174.00 |
| Half-Double Room | € 87.00 |
Food and Beverage:
Within the Hotel there are 4 food and 2 beverage outlets listed below:
Dionyssos restaurant: The 'Dionysos' is the main restaurant in the hotel, offering panoramic views of the sparkling Mediterranean, serving breakfast and dinner daily. The 'Dionysos' offers a rich and sumptuous buffet breakfast including traditional local produce.
Akakiko Japanese: Renowned a la carte Japanese restaurant, serves lunch and dinner.
Cos'altro Italian: An authentic Italian restaurant with Italian dishes such as Pizza, Pasta, Risotto, an enticing array of salads and a broad selection of main courses. This Italian restaurant is open in the evening.
Thalassaki Tavern: Listen to the sounds of the sea at the open air tavern, serving gourmet meals.
Aphrodite Lounge & Terrace: It is open from the early hours serving coffee till the very late hours serving exotic cocktails, rare whiskies and coffee.
Ocean Blue Bar: Half of the bar is actually within the large island shaped swimming pool. The Ocean Blue serves drinks and snacks throughout the day.
Curium Palace Hotel - 4*
General Information
In the heart of Limassol, Curium Palace is perfectly placed, closed to the city centre and only a stroll away from the city's most prominent beach. This boutique hotel was designed by Gunsberg, the world-famous Austrian architect and with the recent refurbishment offers the ideal combination of old world elegance and contemporary style, combined with award-winning service, delectable food and high-tech business facilities.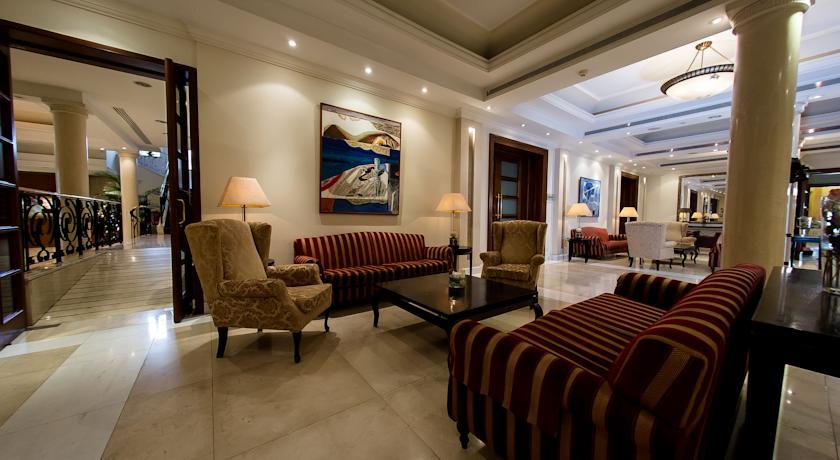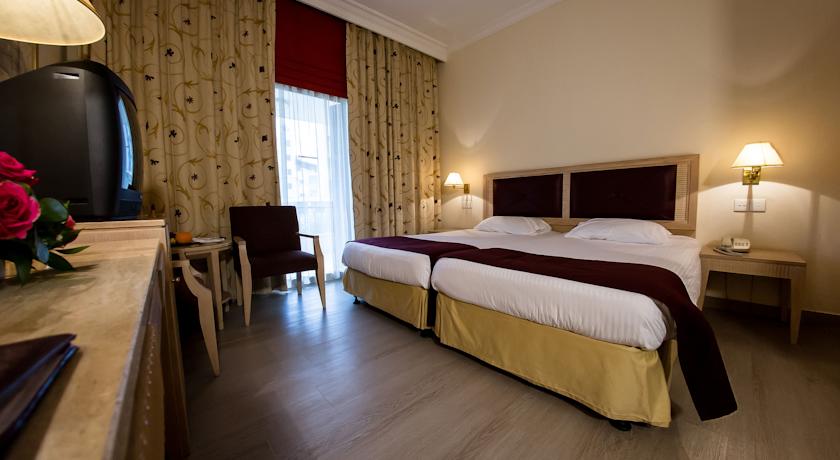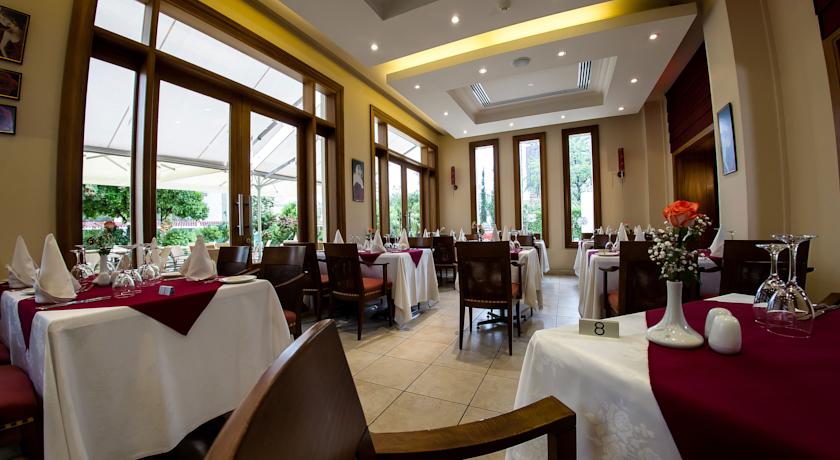 Accommodation
The Hotel has 63 rooms and suites all newly refurbished with air-conditioning, electric key card system, large TV screen with satellite, DVD player on request, high speed wireless internet connection, latest telephone technology with voicemail, , safety deposit box, minibar, services on call and minimum of one balcony.
Rates
| | |
| --- | --- |
| Single Room | € 83.00 |
| Double Room | € 104.00 |
Food & Beverage
There are 4 outlets within the Hotel:
Clock Bar: A vibrant bar serving alcoholic drinks and refreshments and delicious snacks.
Amanjena Pool Bar: Overlooking the swimming pool and the gardens serving fresh drinks and cocktails.
Amanda's Terrace: Behind the jasmine and bougainvillea in the front of the hotel, serving quality coffees and teas.
Squish Restaurant: Open for breakfast, lunch and dinner, it offers modern eclectic Mediterranean cuisine.
Services
The Hotel provides a well-equipped fitness centre for the athletic types as well as a tennis court with a tennis instructor is available for some extra lessons to improve your game. Alternatively, you can indulge yourself with a swim in the swimming pool or better yet request for a massage or use the sauna to clear your mind and rejuvenate your body.
Kapetanios Odyssia Hotel - 3*
General Information
Renovated in 2011, Kapetanios Odyssia is a 3 stars superior hotel and is conveniently located in one of the most privileged areas of Limassol in the center only 100 meters from the beach, it offers an extensive variety of facilities and it is renowned for its excellent service, friendly atmosphere and the good food.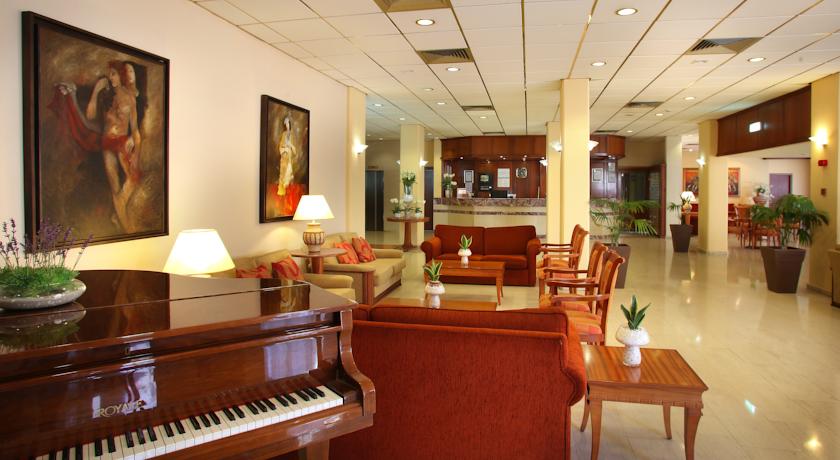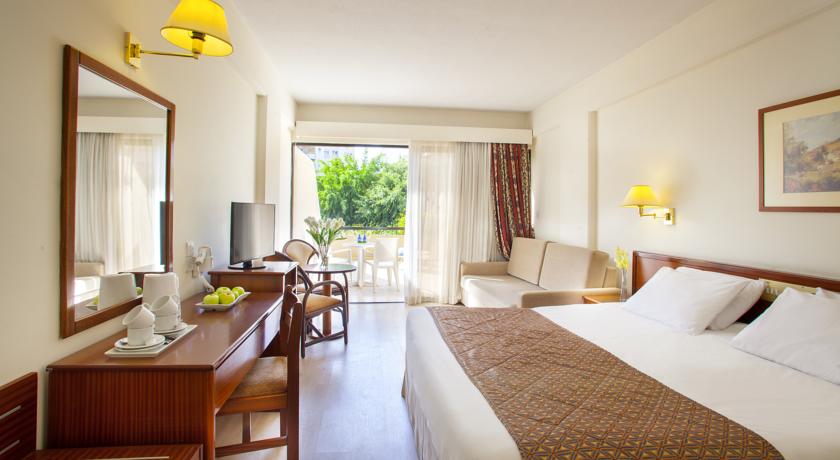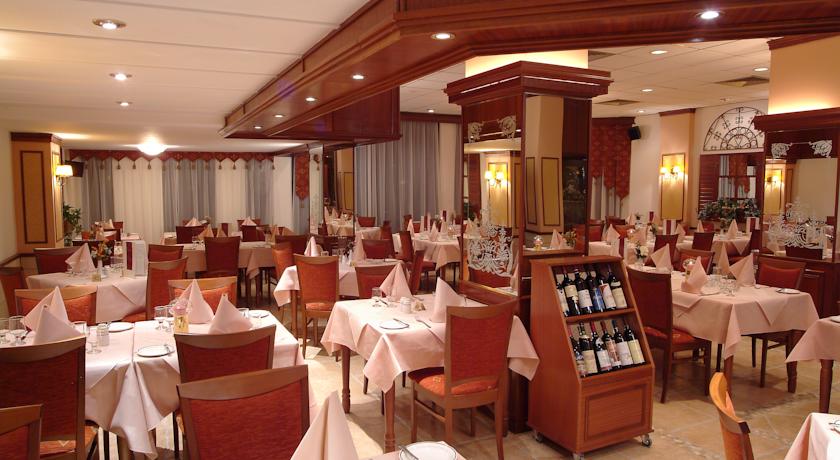 Accommodation
The Hotel has 159 rooms all featuring air-conditioning / heating, bathroom with full-length bathtub or shower, TV with international satellite channels, quality Pay TV movie channels, electronic key system, radio, hair dryer, mini bar, and WiFi.
Rates
| | |
| --- | --- |
| Single Room | € 60.00 |
| Double Room | € 76.00 |
| Half-Double Room | € 38.00 |
Food & Beverage
Within the Hotel there are 5 food and beverage outlets listed below:
Diana Restaurant: International and local specialties accompanied with local and imported wines.
Lido Tavern: Serves à la carte dishes.
O'Brien's Pub and Restaurant: Open for lunch, dinner or to just have a drink in a traditional Irish bar.
Pool Bar: Serves long coolers, snacks and ice-creams.
Piano Lobby & Terrace: A place to enjoy your favorite drink or cocktail.
Services
The hotel offers an outdoor swimming pool, a children's pool, Health Club and Spa, Massage, Sauna and Jacuzzi.