Venue
---
Royal Apollonia Beach Hotel
* * * * *
---
Special discounted hotel rates will be arranged for the conference delegates by the appointed local conference organizer
General Information
The Royal Apollonia Beach Hotel is a 5-star hotel situated in the heart of Limassol, on a sandy beach, surrounded by extensive gardens and framed against the glittering Mediterranean Sea. The Hotel is 77 km away from Larnaca International Airport and 5 km from the town centre and a few minutes away from shops, bars, restaurants, nightclubs and places of archaeological interest.
This newly renovated hotel offers the luxury and hospitality needed for any occasion, be it holidays or business, beginning from 4 restaurants including the Akakiko Japanese and Cos'altro Italian, a poolside bar, the cosy yet cosmopolitan Aphrodite Lounge and Terrace bar to the luxurious refurbished rooms, swimming pools and spa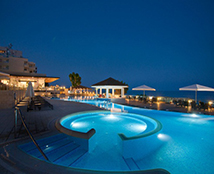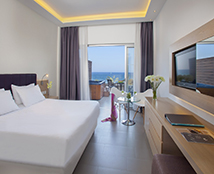 Accommodation
The Royal Apollonia features 204 completely refurbished bedrooms including 13 suites of varying sizes. All rooms at the Royal Apollonia Beach hotel have modern furnishings and large floor-to-ceiling windows. They are decorated in bright colors and require Air-conditioning/ heating, Private bath, Private balcony, Telephone, Internet access, Mini-bar, Hair dryer, Tea & coffee making facilities, Safety deposit box (extra charge), Room service (24-hour), Radio, Satellite TV, Non-smoking rooms.
Conference Facilities
With state of the art Technology the Conference facilities of Royal Apollonia can guarantee a successful conference.
Food & Beverages
Within the Hotel there are 4 food and 2 beverage outlets listed below::
• Dionyssos restaurant: the 'Dionysos' is the main restaurant in the hotel, offering panoramic views of the sparkling Mediterranean, serving breakfast and dinner daily. The 'Dionysos' offers a rich and sumptuous buffet breakfast including traditional local produce.
• Akakiko Japanese: Renowned a la carte Japanese restaurant, serves lunch and dinner.
• Cos'altro Italian: An authentic Italian restaurant with Italian dishes such as Pizza, Pasta, Risotto, an enticing array of salads and a broad selection of main courses. This Italian restaurant is open in the evening..
• Thalassaki Tavern: Listen to the sounds of the sea at the open air tavern, serving gourmet meals.
• Aphrodite Lounge & Terrace: It is open from the early hours serving coffee till the very late hours serving exotic cocktails, rare whiskies and coffee.
• Ocean Blue Bar: Half of the bar is actually within the large island shaped swimming pool. The Ocean Blue serves drinks and snacks throughout the day
General Facilities:
The sport entertainments in Royal Apollonia are endless. Two tennis courts, a swimming pool, a special gym, outdoor Jacuzzi as well as Spa facilities are at your service. Among sports facilities the hotel also features a squash court, a leisure club, a games room, varied Entertainment/Animation program, Jacuzzi and an indoor swimming pool.
Distances:
From the Hotel to City centre: 9 km, 10 minutes
From the Hotel to Larnaca International Airport: 58 km, 40 minutes
From the Hotel to Paphos International Airport: 58 km, 40 minutes
From the Hotel to General Hospital: 17.3 km, 17 minutes
From the Hotel to Cyprus Museum: 8.1 km, 11 minutes
Transportation: City Bus Stop at hotel entrance/ Taxi stop within hotel premises
---
View full map