|

T O U R I S T   A T T R A C T I O N S

|
                            Church of Saint Lazarus, Larnaca
The Church of Saint Lazarus is a late-9th century church in Larnaca. It belongs to the Church of Cyprus, an autocephalousGreek Orthodox Church.
The Church of Saint Lazarus is named for New Testament figure Lazarus of Bethany, the subject of a miracle recounted in the Gospel of John in which Jesus raises him from the dead. According to Orthodox tradition, sometime after the Resurrection of Christ, Lazarus was forced to flee Judea because of rumoured plots on his life and came to Cyprus. There he was appointed by Paul and as the first Bishop of Kition (present-day Larnaca). He is said to have lived for thirty more years and on his death was buried there for the second and last time. The Church of Agios Lazaros was built over the reputed (second) tomb of Lazarus.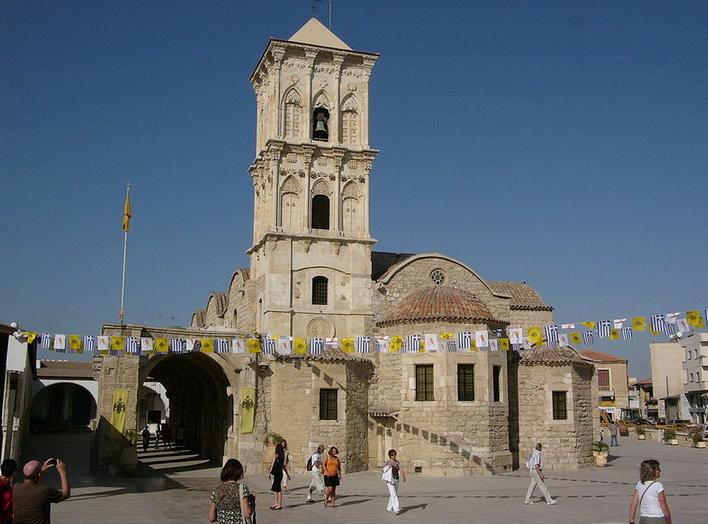 Finikoudes, Larnaca
Finikoudes beach is considered as one of the most beaches in south Cyprus. The heart of Larnaca town is just behind the beach, divided from the shore by the coast road , Athenon Avenue.
Finikoudes beach was named after the small palm trees planted here back in 1922. Finikoudes beach is  Blue Flag status beach and is kept very clean by Larnaca Municipality, who also provide the summer lifeguard service. The beach is around half a kilometre long and has fine , grey sand that kids love to play in. The sea is usually calm enough for youngsters to paddle and swim with adult supervision.
  Larnaca Castle
Larnaca Catle is a castle located on the southern coast of Cyprus. It was constructed to defend the southern coaste of Cyprus and the harbour worn of Larnaca and was later used as an artillery station, prison , and a museum. Throughout British rule the castle was used as a prison where they installed a gallows to execute prisoners.