The Organizing Committee has secured preferential rates for the Conference participants. You can book your accommodation at these rates through the online registration system.
Please note that for a half double room you need to find on your own the other person to share with, and use the shared code provided through the registration page www.easyconferences.org. Both persons must select a half-double room and use the same shared code in their registration.
The below accommodation rates are per night and are inclusive of V.A.T. Breakfast is included.
In case you require to extend your stay beyond the booking dates available in the registration system, please contact us at info@easyconferences.eu
St. Raphael Resort – 5* – Venue
The St. Raphael Resort is a perfect choice for business and leisure, as it is located on one of the most renowned beaches in Limassol and only a short coastal drive from the lively city centre. There are shops, restaurants and bars nearby and a bus stop exactly outside the hotel.
Rates
Single Room (1 person): 161 Eur
Double Room (2 persons): 196 Eur
Half Double Room (1 of 2 persons): 98 Eur
Royal Apollonia – 5*
The Royal Apollonia Beach Hotel is a 5 star newly renovated hotel, situated in the heart of Limassol, on a sandy beach, surrounded by extensive gardens and framed against the glittering Mediterranean Sea. The Hotel is 50 minutes away from Larnaca International Airport, 10 minutes from the town centre and a few minutes away from shops, bars, restaurants, nightclubs and places of archaeological interest.
Rates
Single Room (1 person): 178 Eur
Double Room (2 persons): 208 Eur
Half Double Room (1 of 2 persons): 104 Eur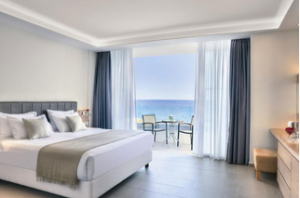 Curium Palace Hotel – 4*
Curium Palace is perfectly placed, closed to the city centre and only a stroll away from the city's most prominent beach. This boutique hotel was designed by Gunsberg, the world-famous Austrian architect and with the recent refurbishment offers the ideal combination of old world elegance and contemporary style, combined with award-winning service, delectable food and high-tech business facilities.
Rates
Single Room (1 person): 95 Eur
Double Room (2 persons): 114 Eur
Elias Beach Hotel – 4*
The Elias Beach Hotel is a luxurious seafront hotel overlooking a 'Blue Flag' sandy beach in the ancient Amathus area, only a short drive from the entertainment area and city centre of the cosmopolitan town of Limassol.
With a choice of different room types, a full range of indoor and outdoor leisure facilities and mixed entertainment programmes, the Elias Beach ranks as a perfectly conceived, all-round resort that offers something for everyone.
Rates
Single Room (1 person): 156 Eur
Double Room (2 persons): 208 Eur
Half Double Room (1 of 2 persons): 104 Eur
Single Room – Sea View (1 person): 175 Eur
Double Room – Sea View (2 persons): 230 Eur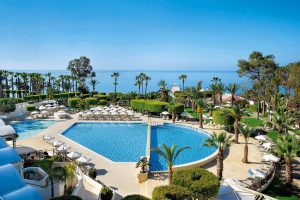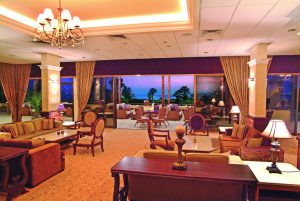 Harmony Bay Hotel – 3*
The Harmony Bay hotel offers its guests precious moments of relaxation by the sea, in an environment that features all the modern comforts. The Hotel is situated at the heart of a unique natural landscape and it has been recently renovated. The rooms are fully equipped with a pleasant color palette and decorated elegantly with vibrant touches for liveliness. All rooms feature wooden floors and a balcony.
Rates
Single Room (1 person): 110 Eur
Double Room (2 persons): 110 Eur
Half Double Room (1 of 2 persons): 55 Eur