Communication via MATTERMOST
Dear Colleagues,
We are excited to welcome you to the 45th European Conference on Visual Perception, taking place in Paphos, Cyprus.
As the local committee, we have selected to use the Mattermost tool for communication during and after the conference. Mattermost is an open-source service that is similar to Slack. However, it includes a Kanban board and playbook features that we believe will enable a smooth discussion and exchange of ideas. We are hoping that attendees will use Mattermost to provide constructive comments and ask questions to presenters during the conference and possibly after. 
Using Mattermost is easy and straightforward. Yet, we have created this document to provide a "how-to" guide for using this tool. 
How to Join Mattermost
We have sent an invitation link to the email you used to register for the conference. Note that if you have used Mattermost for work or other conferences in the past, you will still need to create a new account. This is because accounts are specific to each workspace.
To join, please follow these steps:
To create an account in Mattermost, click "

here

" or copy-paste this link to your browser:

https://chat.cogsci.nl/signup_user_complete/?id=x99txoe7f7y83chazr6t58m4qa

  

Type in any

email address

you prefer by entering it in the relevant field

Choose a username. This can be your full name or any other name you prefer. If you chose not to use your full name here, then see step 5 below.

Choose a

password

(must be 8-64 characters long) and you are ready to go!

Once you are logged in Mattermost,

click on the profile icon

that is on the top right part of the page. The icon shows the first letter of your username and a tick box. Click on Profile to open the Profile Settings. There, please

write your full name

. This will allow people to identify you. You can also add your picture if you want. Think of this as your conference badge. 
How to login to the ECVP2023 server
You can access ECVP2023 on Mattermost through the browser or through a mobile app.  
Browser.

 Point the web browser of your computer to the ECVP2023 URL (

https://chat.cogsci.nl/

 ) and log in with your credentials.

Mobile app.  First, download the Mattermost application from the Applie Store or Google Play on your mobile device. Then, run the app on your phone. In the server field, enter  the ECVP server address (chat.cogsci.nl) and indicate your Display Name.  In the next screen, log in with your credentials 
How to Join Channels in the ECVP2023 workspace
Once you join the ECVP 2023 you will need to click the "+" button and then select Browse Channels. Channels refer to the names of talk sessions or poster themes. We have created a channel for each poster and talk session using the following style:  "topic + poster session" or "topic + talk session". Click on the Join button next to a channel to join it. In each poster or talk session channel you can find threads for the individual posters and or talks belonging to the session/theme.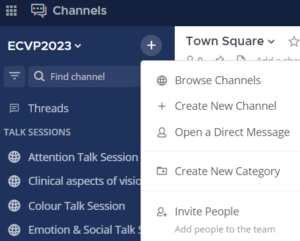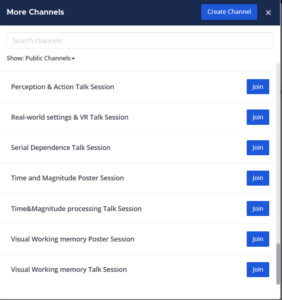 Feel free to explore channels and participate in discussions relevant to your interests by clicking on Reply next to a talk or a poster. You can also upload material such as pdf's and pictures. 
Uploading your poster
We encourage poster presenters to upload a file of their poster if they want people to access it before and after their presentation. To do so, just find your poster in the relevant channel and select Reply. You can then upload a picture, a pdf, or a Powerpoint file of your poster.  You can find your poster with its number, title, or presenter name. Feel free to add any further detail you want people to see or to initiate a discussion by posting a question. And, of course, check the thread of your poster often to read comments or answer questions.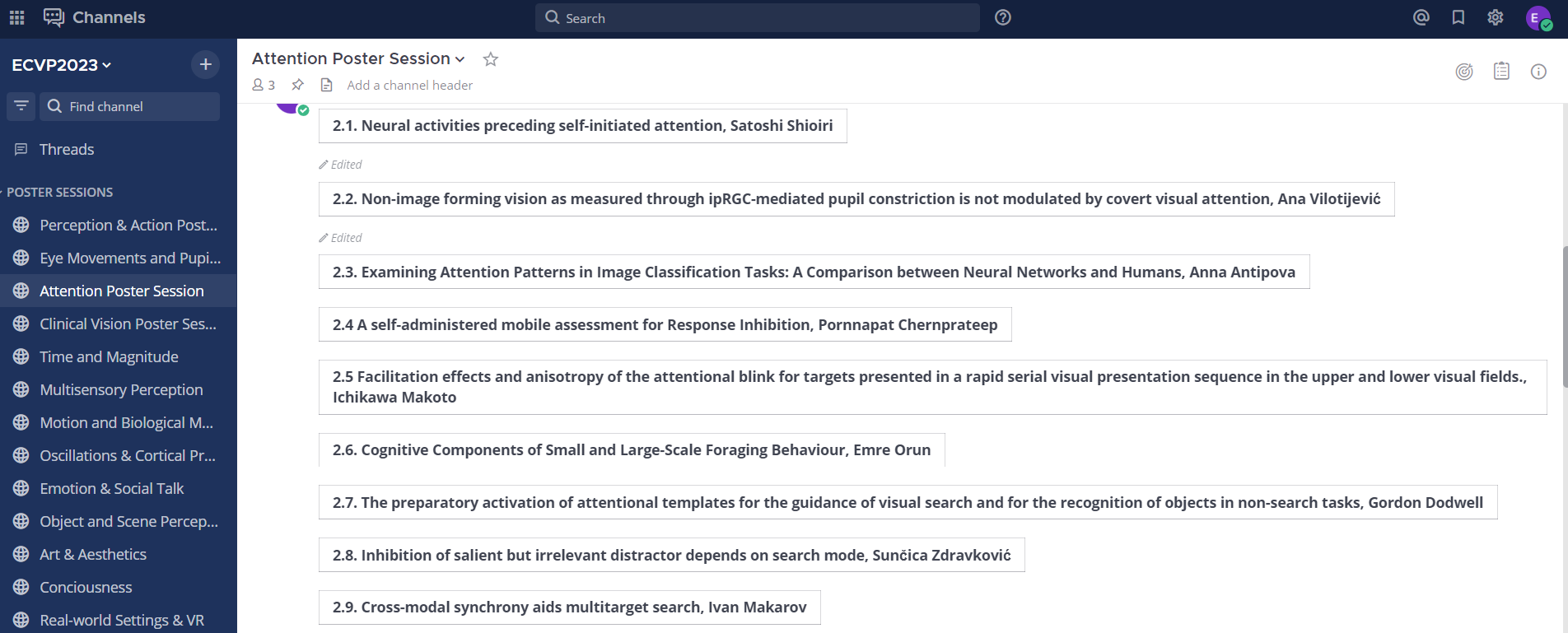 Organise your Workspace
For easier access to the talks and posters of your interest, you can organize your selected channels into categories. For example, you can create a My Favourites category and organize in them the channels that you want (unfortunately, you cannot add individual talks/posters but only the channels you have joined). 
To do so,  click the "+" button and choose "Create New Category" from the open menu. Give the new category a name. Then you can drag channels from the Channels list into the new category. 
Code of Conduct
All participants in Mattermost events must uphold a professional, friendly, and respectful demeanor in all their interactions. As messages on all channels are visible to everyone, we aim to foster a welcoming environment and a strong sense of community. Inappropriate comments, whether in public channels or direct messages, will not be tolerated, and those responsible may face removal from the platform. If you encounter any uncomfortable or concerning comments or behavior on Mattermost, please promptly report it to us at ecvp2023@gmail.com. Your proactive communication helps us ensure a positive and inclusive experience for all users. 
Support and Questions
For any support or questions related to Mattermost events, we encourage you to contact us via email at ecvp2023@gmail.com with the subject "Mattermost". Before the event, please send any inquiries to this email address, and we will gladly assist you. During the event, you can also seek support and ask questions within the designated "ecvp-chat" channel on Mattermost. We value your participation and engagement and will do our best to provide timely and helpful responses. 
Acknowledgment 
We are very grateful to the organizers of ECVP 2023 and especially to Evangelia Athanasiou for her help to create the Mattermost environment for the conference.